La Tomatina festival is one more proof that food shouldn't be only perceived as food, it has other powers like being used in wars! La Tomatina is World's Biggest Food Fight where over 50.000 people gather to throw tons of over ripe tomatoes at each other for entertainment in a city inhibited by only 9000 persons.
The festival is exclusively held in the town of Bunol in the province of Valencia in the East of Spain. Since 1945 it has been held on the last Wednesday of August and lasts for nearly a week featuring music, parades, dancing, and fireworks, heeded by a cooking contest in the night before.La Tomatina has been a tradition in Bunol since 1944 but surprisingly no one is certain how this event originated, there are many theories though.
What happens?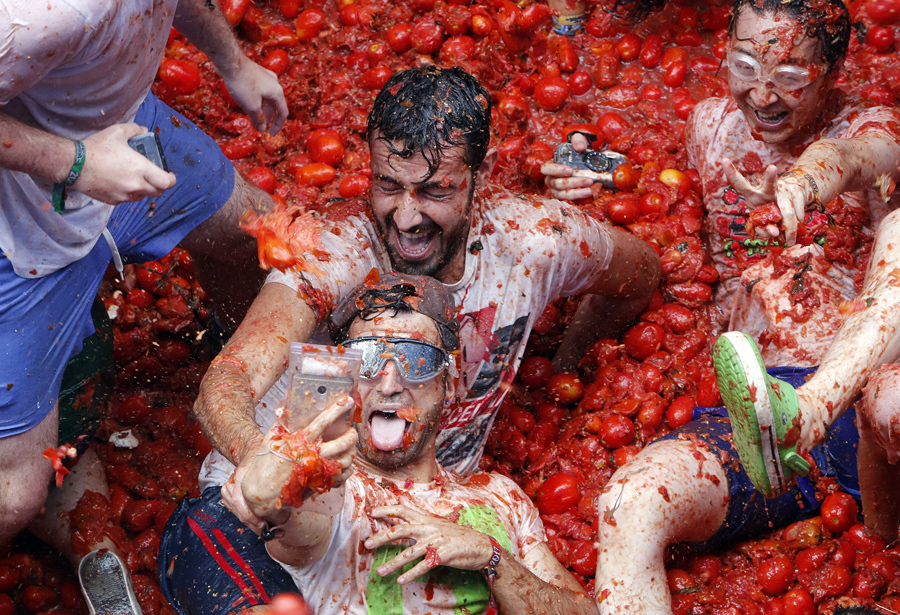 Before midday, trucks arrive to the town carrying the tomatoes while the festival doesn't usually start until one brave person climbs a two-story high greased-up wooden pole and reaches the designated piece of ham at the top which usually takes long time.
Only when water cannons are fired the chaise begins and after one hour it all ends and no more tomatoes are allowed to be thrown. The arena is later cleaned using fire trucks to spray down the streets.
Rules of La Tomatina
Hard objects are not allowed.
Don't rip other people's clothes.
To reduce impact, tomatoes must be squashed before throwing them.
Keep a safe distance from the lorries
Throwing tomatoes must stop as soon as the second shot is heard.
Best tips to enjoy the festival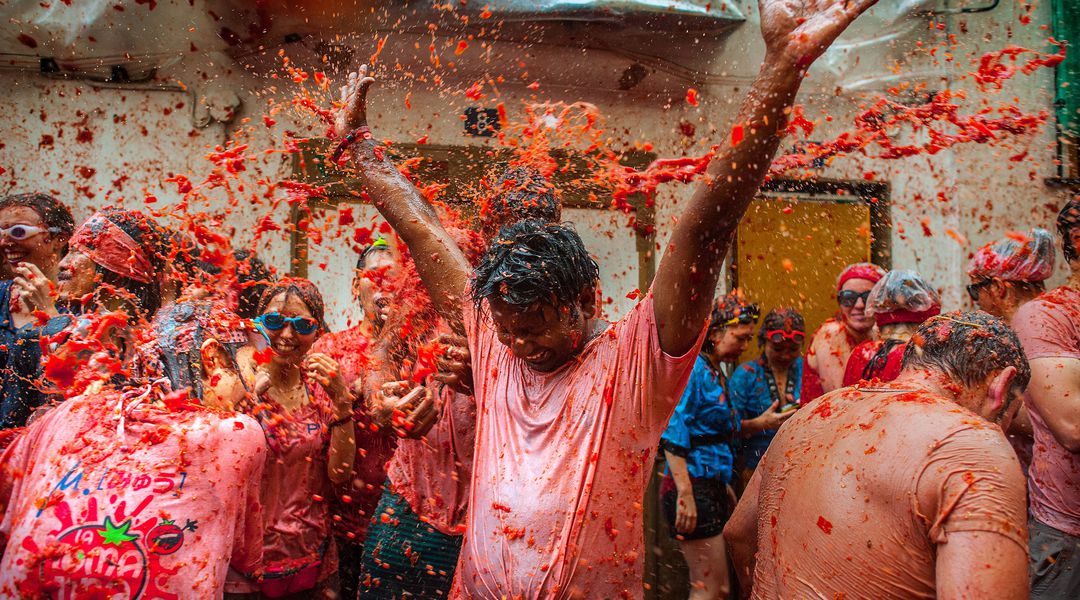 Don't wear open shoes to avoid getting hurt. Wear one that you are ok with throwing it away afterwards which also
applies to clothes.
Wearing goggles may be useful or it is safer and better to make sure you have something clean to wipe your eyes with.
Use a waterproof camera for taking photos.
Be notified that official ticketing has been in place since 2013 which limits the number of participants to just 20,000 people.
Your easier option is to stay in nearby Valencia and use train or bus to reach the town as accommodations in the town are limited.