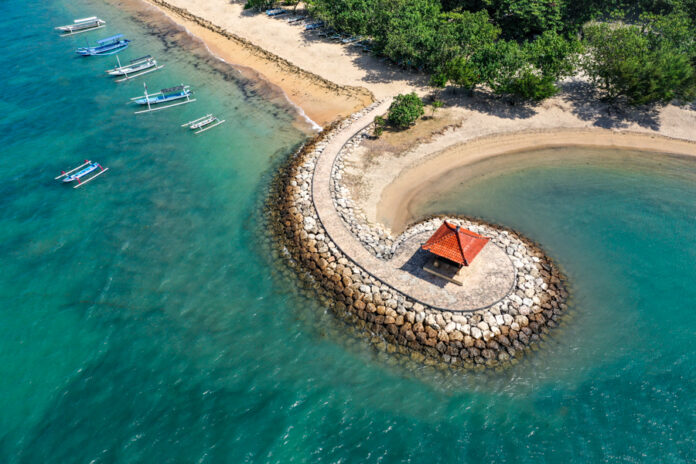 The island of Bali in Indonesia is considered one of the most famous tourist destinations in the world, due to the fact that this wonderful island has landscapes, beaches and ingenious and very beautiful tourist attractions, which made it a tourist destination for the countries of the world, especially citizens of Arab countries, including Egypt.
As a result, in this report we monitor the most prominent and important beaches on the Indonesian island of Bali:
Kuta Beach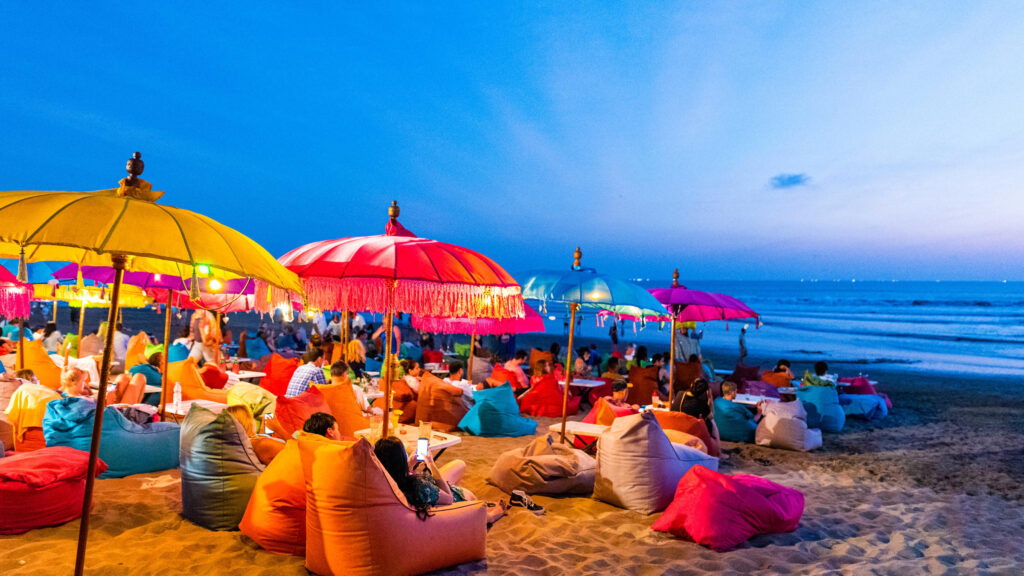 It is the most prominent and famous among visitors to Bali, and it can be considered one of the beaches of Bali that has gained more fame than the tourist reputation of the island itself, with its clean sand and clear water, hiking trails and recreational water activities, headed by kitesurfing and beach soccer, with warm and gentle sun rays tempting, to get a sunbath and a massage session for a small fee while enjoying the wonderful sunrise and sunset scenes.
The Kuta Beach Resort is also characterized by the growth of coconut trees on the southwestern coast of Bali, the flocks of water turtles that appear from time to time, with the multiplicity of accommodation options that it offers from cheap guesthouses to luxury hotels, and shopping options that oscillate between street vendors selling cheap traditional local goods to trendy shopping malls.
This beach also has night sessions carried out by the Islanders and are full of singing and dancing, which makes tourists happy.
Sanur Beach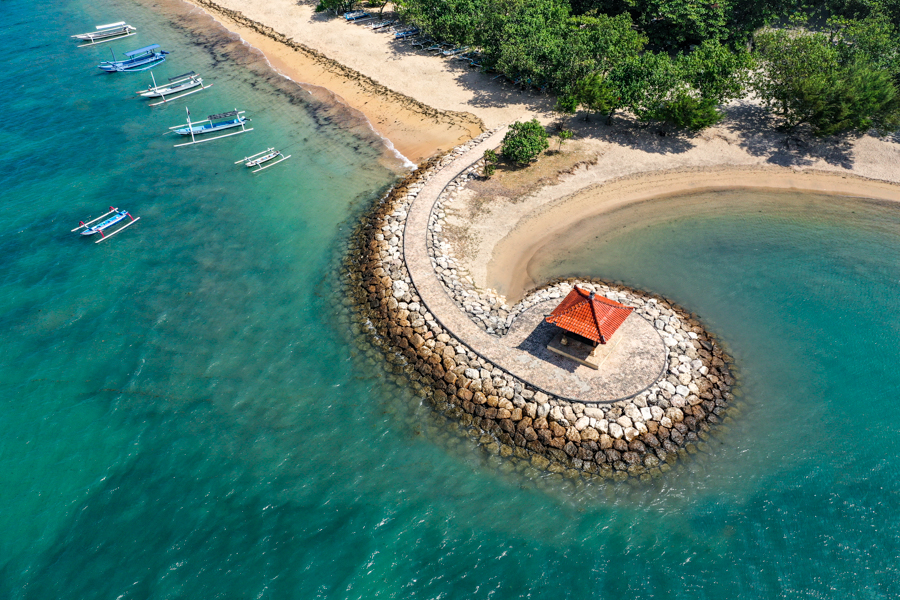 This beach is the most important and most beautiful tourist attractions of Bali, it is a series of beaches located on the southern island of Bali, and provides many recreational activities and pleasure routes that differ from other Bali beaches, all meeting under one name, Sanur beach.
The coast of Sanur beach offers a range of ancient and upscale hotels with legendary construction, with some water and beach activities such as swimming, fishing, kitesurfing, snorkeling, diving among the most beautiful shapes and colors of coral reefs and Marine Forests, in addition to kite launching experiments, for which an annual festival is held, paragliding, kayaking and cycling.
Sanur Beach also offers a range of stalls selling locally flavoured seafood and snacks, cold drinks, and shopping for popular handmade products.
Nusa Dua Beach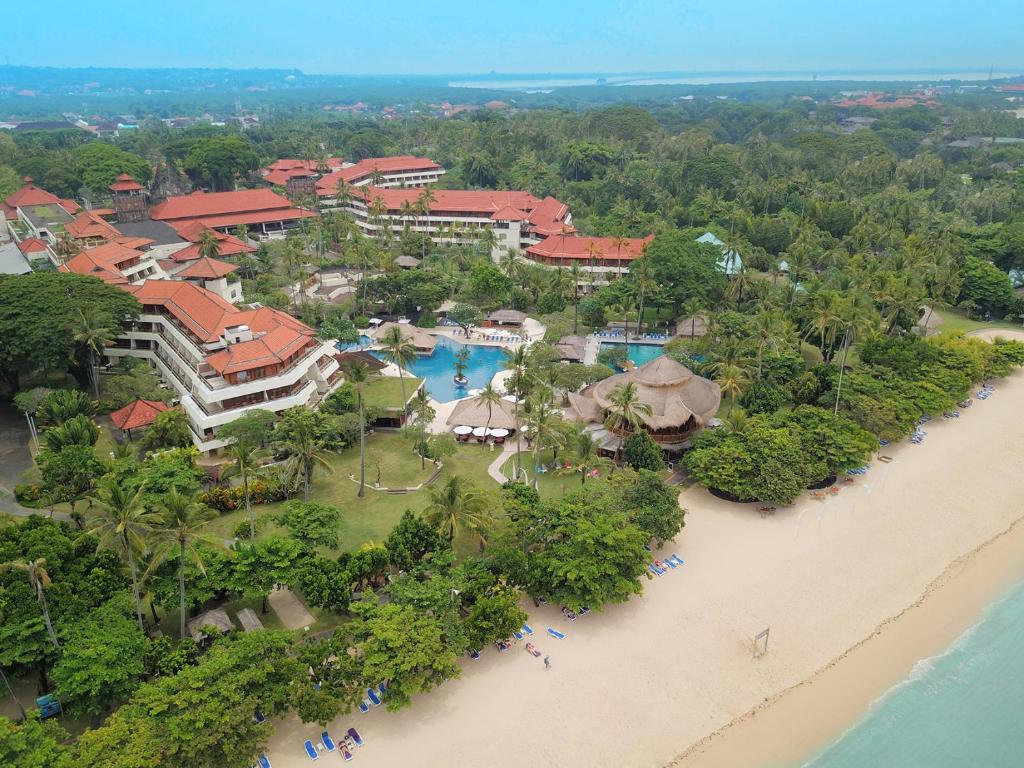 This beach is one of the most prestigious tourist resorts in Bali, as it offers ingenious hotel and tourist services.with soft white sand, calm clear waters ideal for practicing water sports and well-groomed green parks, a set of integrated facilities such as: luxury beach hotels surrounded by greenery and palm trees, a shopping center and branches of the most famous international restaurant and cafe chains, wherever you can spend your vacation or a pleasant day in happiness.
Dreamland Beach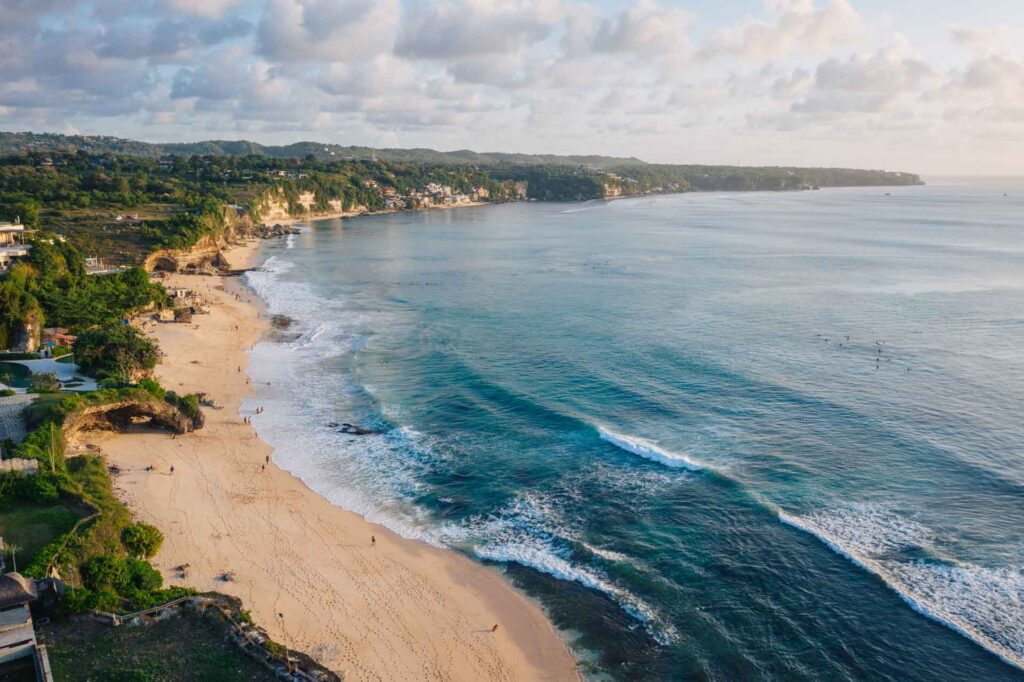 A small upscale beach with a stony sandy nature no more than 100 meters long, and despite its small area, it is one of the recommended beaches to visit during a tourist trip in Bali, Indonesia, where the beach provides accommodation and entertainment options at a high level of sophistication, luxury and pleasure through five-star hotels and resorts, elegant villas, location close to the World Golf Course on the island of Bali, great opportunities for water sports.
Thus, Dreamland Beach is one of the leading locations on the island of Bali for recreational activities, and it is considered one of the ideal locations for youth and family holidays with children when tourism in Bali.
Double Six Beach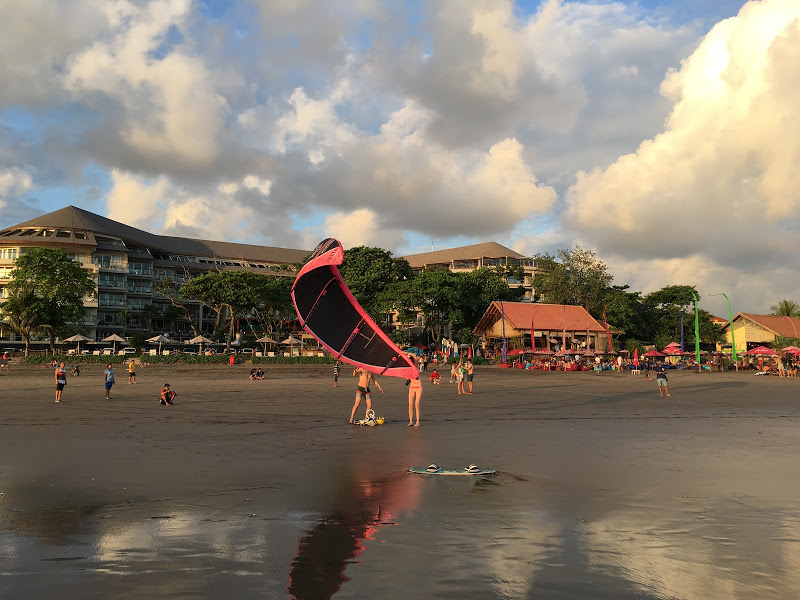 It is a small beach located between the Legian and Seminyak beaches, and is an extension of the latter for a distance of up to 500 meters.
Like other beaches of Bali, the Double Six beach or the Blue Ocean Beach, as it is famous, offers a number of recreational activities for its visitors, such as sunbathing and windsurfing facilities, colorful umbrellas for relaxing and relaxing under them in peace, original massages by local islanders, with a wonderful opportunity to rent and ride horses in a unique exciting seaside experience.
In addition Double Six Beach offers a number of luxury beach clubs and bars, with a chain of high-end restaurants and five-star hotels.
It is worth noting that visiting the Blue Ocean Beach is free for guests of hotels overlooking it, while arrivals from Legian Beach need to pay a fee on their cars when entering this beach.
Legian Beach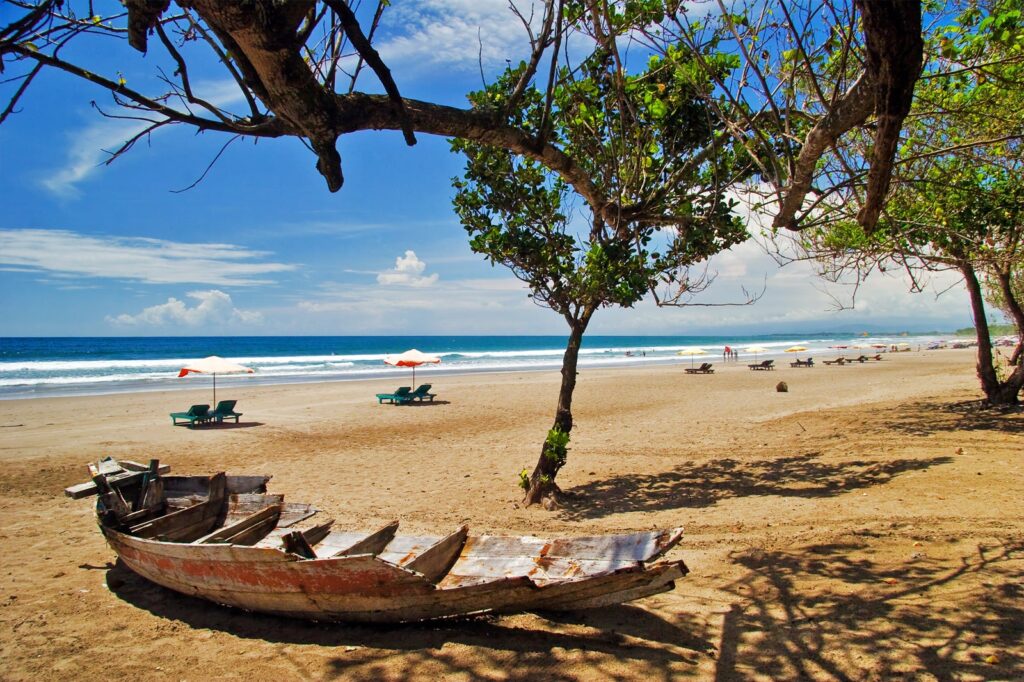 It is one of the most similar beaches of Bali to the famous Kuta beach and Resort, and why not, it is adjacent to it on its northern border and 2 km from the coast of the island of Bali.
Despite this, the two beaches are very similar in nature, from providing nightclubs and beach bars that work day and night to serve and relax tourists, sunbathing facilities with refreshing cocktails, a number of the finest hotels and restaurants, a group of street vendors selling popular local goods, which are famous for the cities of Indonesia, especially the island of Bali.
Jimbaran Beach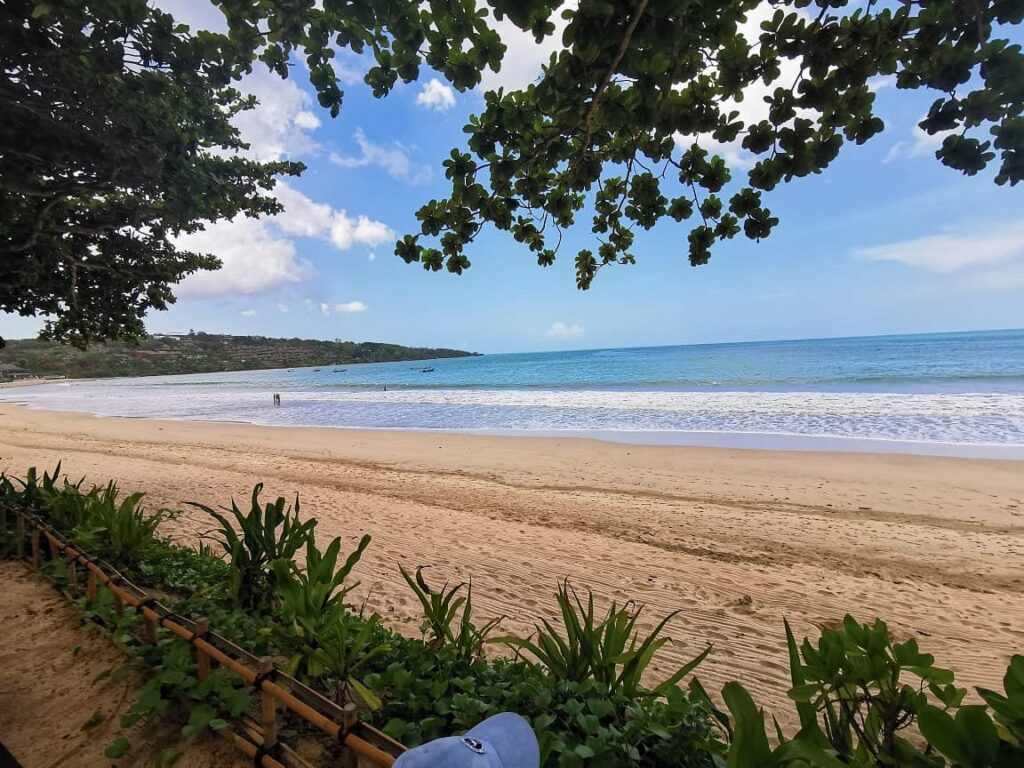 This beach is one of the best honeymoon places characterized by its quiet romantic atmosphere in the cities of Indonesia, as it is a long sandy beach that stretches up to 3 km from the coast of the island of Bali.
Jimbaran Beach is a great opportunity to mingle with the island's fishermen, as you can attend fresh fishing operations and return early in the morning, or enjoy the beauty and tranquility of the beach before the sun rises and the fishing movement begins, and perhaps attend the wonderful sunrise and sunset moments on it. You can also have delicious barbecues on the beach, or have a hearty seafood meal with a local drink at one of the famous restaurants of the coast.